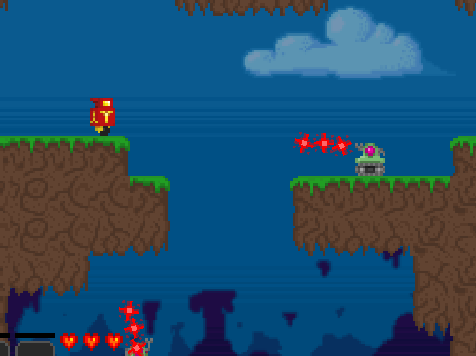 Look,
Robot Wants Ice Cream
is now fully implemented (including all the special skins and mutators from this game) in
Robot Wants It All
! That's the last old game.
Robot Wants Justice
is around halfway done, whatever that means.
The home stretch, of course, is called a stretch for a reason, though it was greatly stretched out by several weeks last month where I was way too busy with life stuff to do any work. But we are still moving along, and it should (still) be a couple of months until release. It might always be a couple of months until release, because that's how game development works. But it's closer than it was on our last update, anyway.
It's kind of a shame that RWIC is the 4th game in the series, because it's far and away the easiest and most accessible. You kinda just bounce around murdering everything, with no real puzzle or challenge (except the final boss, who still is a lot easier than anything in the earlier games!). It would make a nice intro to the whole thing. It's a lot of fun to play for sure, especially with all the interesting variations added in Robot Wants It All.
Robot really encompasses quite a spectrum, from the ultra-hardcore precision skill of Robot Wants Puppy, to the mindless blasting of Robot Wants Ice Cream. I'm not entirely sure where Robot Wants Justice fits in that spectrum, but it's somewhere closer to the Puppy end of things. Hopefully not too close, but a little puzzling challenge is good.