Progress on Lost In The Woods remains pretty nice actually,
but
I have stepped aside this week to try to shore up some Blender skills. I tried modeling some characters, which I think I have pretty well figured out, but then dove into rigging and animating which is a real pain (especially to make them work properly inside Unreal). I started with the creature I could think of that would produce the simplest possible animation rig (well, not a snake, but close): A Shroom/Mushie!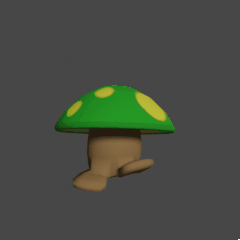 Just two feet and a couple bones for tilting. Also, I eyedropped the colors straight from a screenshot of Dr. Lunatic. The rigging I was able to do without doing
any
weight painting because it was so simple. So I moved on to something that I thought would be a little trickier, but instead feels like it may have been my final exam in rigging: a bat.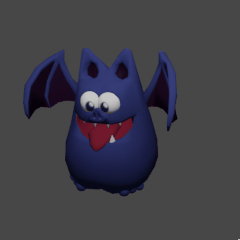 This chubby fellow, of which I am quite proud and happy to see the Hamumuism of it all, took several days to reach this point. I thought he'd be easy - just two wings and a spine to animate, but that's not how it turned out. Modeling was pretty easy, building the skeleton was no big deal, but weight painting, oh boy. I got to watch several youtube videos to guide me through all the tricks and techniques of masking parts off and adjusting the pose mid-paint. Otherwise I wouldn't have ever been able to paint his whole tongue (which IS fully animatable, thank you). He can open and shut his mouth, put his tongue in and out, fly, tilt his ears, wiggle his toes (sort of), anything you'd want a fat bat to do. The only thing he can't do is what the original Scary Bats did - bug his eyes out. At least not in a way that would work out well.
So anyway, I am really liking this bat and now I am sharing him with you! He does not belong in any particular game at this time, but he sure does make me think.