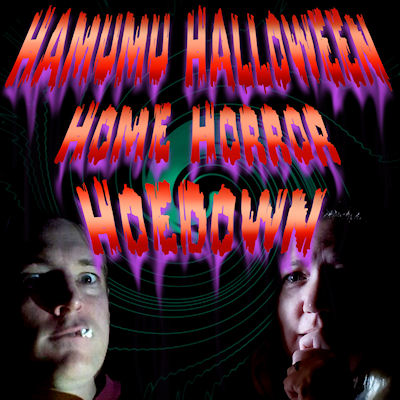 Like every year, I am going to spend the month of October watching and reviewing 31 horror movies. And like most years, I'm changing up the format of my reviews again this year! So, we've done basic text reviews, reviews with a drawing inspired by the film, reviews with a new movie idea inspired by the film, video reviews, text discussions with my wife (and once or twice, special guests), and now... it's a podcast! My wife and I, in your ears, ranting and raving about all the stupid little things we have a problem with, in 31 different horror movies all month long (or whenever you feel like listening to it).
As usual, we will be
GOING NUTS WITH THE SPOILERS
so we strongly encourage you to watch the movies before listening to our glorious takedown. In order to facilitate that, I'm actually going to give you a decent head's up for once. Here is a handy list of the first 10 movies we'll be covering, and what streaming service we used to watch them. I'll make sure to update you on the next 10 when I can!
Episode 1: Unsane (2018) on Amazon Prime


Episode 2: Devil's Tree: Rooted Evil (2018) on Amazon Prime


Episode 3: The Levenger Tapes (2013) on Hulu


Episode 4: June (2015) on Amazon Prime


Episode 5: The Thing (1982) on Starz


Episode 6: 11 Minutes (2016) on Hulu


Episode 7: Charlie Charlie (2016) on Hulu


Episode 8: The Stepfather (1987) on Amazon Prime


Episode 9: Blood Hunters (2016) on Hulu


Episode 10: The Boy (2016) on Netflix


Don't miss out! This is my favorite part of the year! On the first of October, we'll be sure to provide handy links to subscribe to the podcast in iTunes and Google Whatever. So tune back in to this page for spooky goodness.