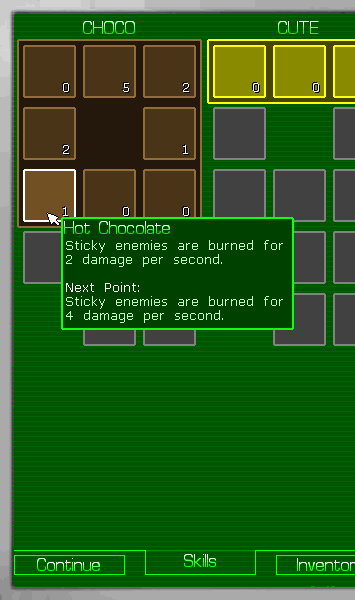 Well, I guess I did make that WoW-style talent system, after all! I call it Skills though, to fool people into thinking it's different. I just had so much fun building up the ideas for the different skills, I went with it.
This shot shows the Pause screen, if you flip it to the Skills tab (see tabs at the bottom). Obviously, the skills don't have icons yet - those boxes won't be blank! The headers will also be nicer looking than that plain green font. I'm also going to have little dots running up the sides of the icons to show how many points you've put in, instead of the numbers they currently have.
So, how it works is simple. If you played WoW, you already know all of this, but basically, there are 4 Skill sets - Choco, Cute, Snuggle, and Sweet (okay, that part's not in WoW). As you can see, the skills are greyed out below the top row, until you spend some points. You need to spend 5 points in a given skill set to unlock the 2nd row, 10 points for the 3rd row, and so on. That encourages you to pick one set and focus on it, so you can get to the good stuff at the bottom. Unlike WoW, every skill can have 5 points in it. You hover the mouse over a skill to see the details.
You gain 1 Skill Point per level, so it's possible to get 98 Skill Points (maybe a few more from missions, I am not sure), and there are currently 52 skills (2 of which are not yet invented...), so that means you could put about 2 points in every single skill, if you wanted to be extremely widespread. You definitely wouldn't do that, I hope, and so if you max out one set, that's 65 points spent, leaving you enough for a smallish investment in one other set (enough points to get all the way to the bottom of it, though, should you choose!). I like that, very much a choice to be made. And you needn't worry about making bad choices and ruining your game - this is no RPG. You could probably win it without ever spending a single skill point. Not that it would be easy! But I will probably add a Skill Reset you can buy for lots of Canadian moolah. I always hate to do that, because it discourages you from playing the game over - why do that when you can just reset and try out a new build right away?
Anyway, here's a little inside stuff about the four skill sets:
CHOCO
- Obviously chocolate-based (chocolate, caramel, nougat, nuts). Critical Hits with Choco attacks cause Stickiness, which slows the victim for a while.
SWEET
- Sugary stuff that isn't chocolate (lollipops, cotton candy,... I can't think of any offhand, but there's a million things!). Critical Hits with Sweet attacks cause Tooth Decay, which is exactly the same as poison in other games (you turn green and take damage for a while).
SNUGGLE
- Love stuff (hugs, hearts, cupid arrows, gifts). Critical Hits with Snuggle attacks cause Heartwarming, where the victim leaves flames everywhere they go for a while (which in turn hurt others that step on them, as well as the victim itself).
CUTE
- Cute stuff, surprisingly (bunnies, kitties, puppies, rainbows). Critical Hits with Cute attacks cause Awww, which temporarily swaps the team of the victim, so they help you out for a short time (AKA mind control).
Each of the four skill sets has a certain emphasis (besides generally working to improve the attacks and critical effects of its type, and defense against those things), although it's a little bit muddled:
CHOCO
- defensive things, like more life and taking less damage, and getting healed.
SWEET
- raw damage, and enhanced speed for obvious reasons (you know, sugar?).
SNUGGLE
- also damage, but a bit of a focus on super powers (see below).
CUTE
- focused on making the Awww effect powered up to the point where you are sort of having an army fight for you.
Each set has 2 Super Powers in it. Those are special abilities you can click on to activate (all other skills are automatic effects, not something you use), that do something super like raining hearts down all over the screen. They also work with the set theme, like Choco has healing and invincibility for powers, Cute has a summon power and one that Awwws everybody around. Super Powers are only limited by a timer - Each one needs a long while to recharge after use.
There you go, a pretty technical design-based sneak peek. Now, if you are intrigued by these skills, how about making up your own? It's the latest
Happyponygate Contest
! Enter now!
Don't forget also that the
Happyponygate Boss Contest
is still going on too.