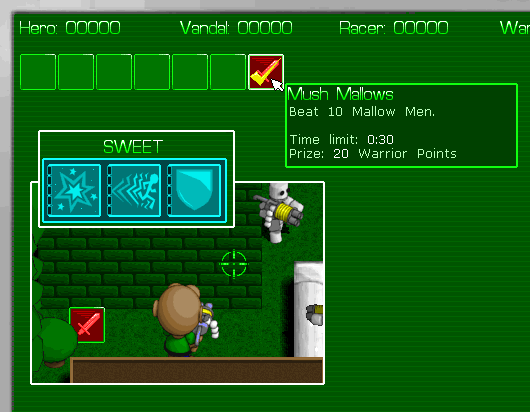 A few bits of interest. The mission system is now complete and fully functional (well, the one existing mission works - I'll need new capabilities to handle other types of missions...). As you can see in the shot by the handy checkmark (which obnoxiously overlaps the sword on the icon), I have completed the one mission! It's not a very hard one. The big inset shot shows the mission bouncing up and down in the world. You just grab that and it tells you what the mission is and starts the timer counting down.
The other inset shot just shows two things: first, I finally made some icons for the skills! They're very simple, but I like them. A lot more than I like the cheesy pixel-art icons the missions have. And secondly, it now counts your points in skills by those little spots running up the side of the icons.
Oh, and there's the new crosshair, better than a cookie! "Green Computer" is sort of the stylistic theme of this game. Kind of a weird conflict with the whole happy pony thing, but hey, that's
their
style, not Bouapha's.