And just as a grand finale (let's assume that's what it is... this has to end!), I MELTED MY SHIRT WITH KOOL-AID! I spilled a couple drops of Kool-Aid on my shirt (juice pouches are hard to operate!), and it has eaten two holes in it. Kool-Aid scares me now. I was
drinking
that! I actually watched it happen. I noticed pink spots on my shirt, then a little hole in the big spot, then gradually over the next hour or so, the hole grew (and a little one formed in the little spot), until the pink spots were gone... they were holes. It's really quite disturbing all around.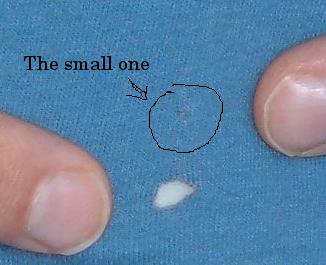 Fingers shown for scale, and notice slight pink edges to the holes. You can't tell, but the small one is actually a hole as well, and two full threads wide! I don't know why it's not visible in the picture.
As an aside, the responses to my last entry seem to demand this bit of info: I am a rational adult, so I don't believe in karma, of course! I also don't believe I am cursed. It's just human nature to find patterns in things. It's what we do. I was just messing around.
And so is Joss Whedon! Don't miss
Dr. Horrible's Sing-Along Blog
which begins tomorrow and will vanish for eternity on Sunday.