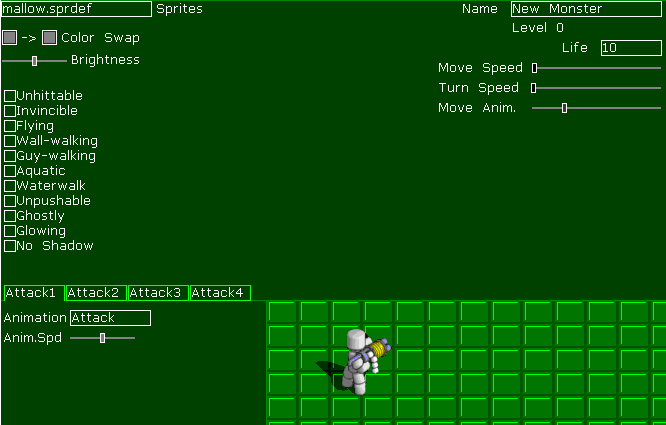 That's actually a condensed shot - the real editor has even more dead space in the middle, which I just cropped out (and more dead space below as well, though that's just buttons I haven't made yet). I don't know if that space will someday serve a purpose, or if it will always be delightfully blank. It ain't pretty, friends, but it is certainly functional, and that's my goal. Making a complex menu with lots of buttons also pretty is far beyond my desired amount of time spent messing with stupid things nobody cares about.
The entire top section is done, though I think some more things will end up needed eventually (especially more monster flags). The attack definition is far from done. So how it all works is you make your changes, and you watch the little guy in your 'monster tank' in the lower right to see what your changes are doing to him. He sorta wanders around randomly in there. You'll also be able to click a Test button to make him fire off the currently selected attack when you want to see it in action.
The monster's level is automatically calculated based on the damage his attacks do and how much life he has. I am fairly sure there will be quite a few ways to exploit that, but I'm trying to err on the side of low level to prevent people from making cakewalk levels that power them up quickly and give them great items (actually, I think items won't drop in user-made levels, but that's something to consider later). When you let people make their own levels
and
the monsters that populate them, that's pretty much unavoidable, but I'm at least going to try to make it a little difficult. Of course, I could also make players gain no XP in user-made levels, but let's hope I don't have to be so drastic!
Speaking of drastic, check out my new hat: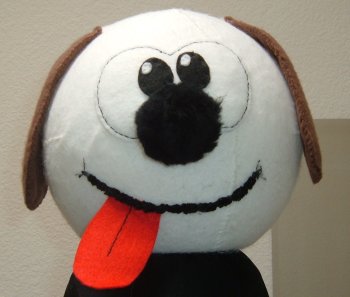 Custom-made by Sol Hunt, this is an unfinished shot, though the hat is done now. The black part on the bottom is a baseball cap, which the yerfdog on top is sewn onto. The only thing you're missing in this shot is his legs, which sort of dangle next to the hat part. You also can't see his tail, but that's on the back, oddly enough. The ears and tail have pipe cleaners inside them, making them totally adjustable. You can perk his ears up to scan the crowd as needed. I fully intend to wear this hat to PAX, and look very stupid. I'm fully embarrassed to be seen in it, but that's the price I will have to pay for publicity. I've also designed a shirt that says
I will give you
FREE DUMB GAMES
Just ask me
www.hamumu.com
So combining these two things should be instant win. You are welcome to start a betting pool on how long until I take it all off and go incognito in normal clothes. I still need to create the demo CD I want to have, and get the shirts ordered, and then I'm ready for the big event!