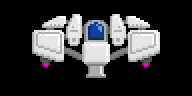 This is the next boss in Robot Wants Ice Cream, the second of two
more
I added today! There are 5 so far, and only about 1/3 of the map is done! There won't be
that
many more bosses, though. Let's not get ridiculous.
But this boss is here for a reason! It's time for a "contest" which gets to go in quotes due to a complete lack of prizes. This boss is sort of a UFO that hovers around above you dropping bombs. What would you name it? The winning name is the one I will use in the game, and that's about all there is to it, but that's like being immortalized in an incredible piece of art history that will stand for all time, so it's totally worth it. My criteria for choosing a winner will just be "meh, whatever." You know, whatever happens to click with my brain. The deadline is whenever I pick a winner, so get your ideas in now!
* Note: you won't get credited in-game for your brilliance. Sorry, but the entire "credits screen" in a Robot game is a single line of text!