This weekend marks the 18th grand historical game development competition,
Ludum Dare
. In commemoration of this (and because other people were doing it and I got up at 3:45 this morning so I am a bit foggy), I created a collage of my previous LD entries: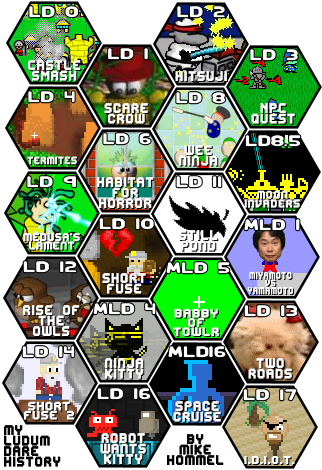 Yep, it's been 20 entries since it started! I'm not sure I actually submitted all of those, but they were all worked on for the contest in question, so close enough. The ones I didn't submit were in no shape to win anything anyway. It's crazy how much game making this contest has pushed me into.
So why not get pushed yourself? Head on over to the site and join up for another rollicking round of 48-hour game development! I'm taking the weekend off from real work, and will spend it seeing what I can do. Fingers are crossed for a theme that inspires me.
Both Robot contests will end Monday!
Submit your ideas before then, because I gonna pick me some winners and get to work developing them!