So, the Steam Summer Sale came again (in the summer!). As always, I stocked up on insanely cheap games and lamented the death of the game industry. But I got a lot less than I used to, because with a backlog of well over a hundred games in my Steam account, and maybe an hour a day to game, I realized it's time to get picky. So I went in with a mission: I wanted action-RPG (or 'action adventure') games with skill trees and leveling up. That's the kind of thing that absolutely hooks me, so why waste my time with lesser games?
Of course, in the end, I found
very
few such games I didn't own! It was kind of depressing. And yeah, I got more than a few games of other sorts, but I did manage to keep it way down from my usual.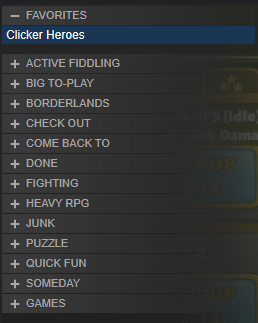 But then I took another step - I spent an hour or more going through my Steam list and breaking it down into categories! Oh how I love organizing data. So here it is. "Favorites" are games I'm currently actively playing (Clicker Heroes isn't exactly a game, but I do load it up every day, which I should stop doing because it's
stupid
....), "Active Fiddling" are ones I'm not really playing, but I'm theoretically coming back to every so often to peck at a little more.
"Big To-Play" is where it's at - these are the 'big games' that I'm planning to play through to completion in one fell swoop, one at a time. This list is bigger than I had expected, currently at 61 games. Odds are I won't actually play them all, and many I will try out and quit because they are terrible, but I am glad to have this handy list of monster games that intrigue me. Without such a list, I'd probably just spend the rest of my life opening that "Borderlands" category exclusively, and that's not good for me!
After that self-explanatory "Borderlands" category, there's "Check Out" which are games that intrigued me enough to buy them, but I don't know if they're really worth playing, or in some cases, I don't even know what they really
are
. So I hope to open those up and eventually move them to another category.
And then it goes on with other specific categories in case I want to pop open a fighting game or a puzzle game someday when I am in the mood. But my main goal is to crank through those Big To-Play games. I really enjoy immersing myself in a fun action-RPG and figuring out what skills I want to pick up in it, so away I go!
I've started this process already, a few weeks ago (when the summer sale happened!), and I'm actually a few games into it at this point. I plan to bring you reviews as I go. Stay tuned for your first review, up next!