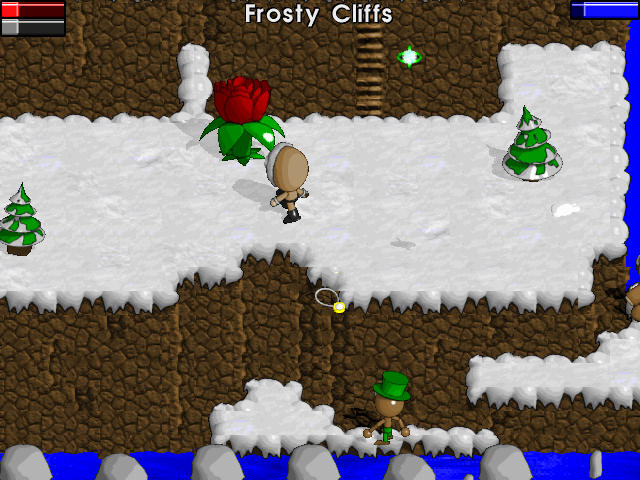 Here's a new region... take a wild guess as to what it's called. There's also a new enemy visible, and the green thing up in the air is a bomb launched by said enemy.
The cliffs operate much more nicely than the ones in the original Loonyland, but it's still rather funky, trying to map 3D behavior onto a 2D view. You can now slide down the cliffsides, which works nicely. Where it gets a little weird is when you slide down the sky. It all makes some sense, but it might take a little getting used to, mentally. I've even done some tricks where your shadow is down on the ground if you're up in the sky, and you stay in a jumping animation as long as you are on sky. That helps make it seem more real, but it's still quite a bit off from what makes sense. To understand that, you'll just have to play! Items currently sit happily on the sky (or in water for that matter). I should probably make them sink in water and slide down the sky and cliffs just like you do. That would probably be a nice touch... until you saw a Golden Axe go flying into the water and sent me hate mail.
Things are now pretty thoroughly implemented right up to a pivotal moment that divides the game in two. Probably something like the first half is done. The second half will go more quickly, since a lot of stuff done for the first half will be useful to it. I will begin some manner of beta stuff when the first half is more completely solid. That way I'll be trudging along on the latter half while testers (preorderers? Maybe) are playing the first half. I imagine you guys will be a bit faster than me, since you just get to ride the train, while I have to actually lay in the tracks, but that's the magic of playing a beta! Unfinished entertainment.