The Sci-Fi Pack is coming to Kid Hallow! It will be a free update with 20some new tiles/monsters/etc, 3 new costumes, one or two new backgrounds, new music, and some special features.

Multipass (Red, Blue, Green)
Remember Pressure Pads? Ah, such fun. Well, at first a Multipass seems like the same thing: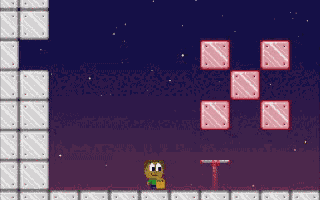 Step inside the Multipass, stuff switches!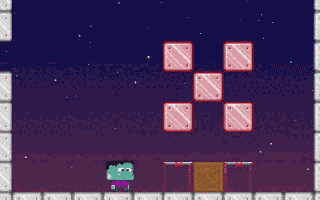 But it's called a Multipass for a reason! It's kind of the opposite of a Pressure Pad - instead of triggering when anybody steps on any of them, it triggers only once all of them are occupied (and untriggers as soon as anybody leaves). So it's about setting up a situation where you get somebody or something onto all of the Multipasses. Pressure Pads send a spark downward (if there's a wire below them) as soon as someone steps on them. Multipasses won't send a spark until all Multipasses of the same color are occupied. Also, it goes in the Overlay Layer rather than the normal Tile Layer. It's not the most amazing and unique element, but I think it adds a couple new types of puzzles you can build. That's the goal with this pack, to create things that open up new level design possibilities instead of just more monsters to bite you.
Kandy-Kraving Kid
We got a full-on video for you today! The Kid may not be the biggest powerhouse in the game (in fact, he is definitely the weakest, by a mile), but with a Power Pill, he can actually start to do some stuff that nobody else can do. I made sure to stay true to his complete inability to harm anyone, but at least he can get a little pushy now.